"Our favorite iPad stand for artists."

— WIRED
"Our favorite iPad stand for artists."
— WIRED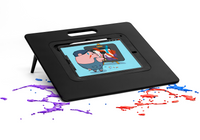 The Stand Preferred by Artists
Feel better and draw better with the award-winning iPad stand that AppleInsider called "a game-changer."
Start Drawing Better
Now Available in White Edition
The white Sketchboard will be right at home in the most elegant artist studio. Keep it clean or draw all over it. Your canvas awaits!
Get Yours Now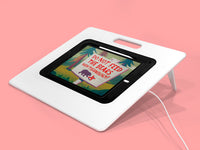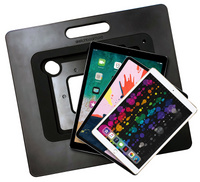 Designed for Upgrades
Planning to upgrade your tablet in the future? No sweat! When you change tablet sizes, simply swap out the center of your Sketchboard Pro with one of our Upgrade Kits and you're good to go!
Get Fit for Your New iPad
Professional Artists Love Sketchboard Pro
Loving my Sketchboard Pro for my iPad Pro!

Skottie Young, Artist, Marvel Comics, Rocket Raccoon, Deadpool
I am simply in love with Sketchboard Pro! Biggest game changer for iPad and Procreate artists!

Mia Hobbes, Digital Artist, Lucky Charm Girls
I love working on the couch, or the park, Sketchboard Pro makes that so much easier.

Michael Avon Oeming, Artist, Powers, Dick Tracy, Bulletproof Monk
After drawing on the Sketchboard Pro I was much more comfortable even when drawing for days on end.

Chad Hardin, Artist, DC Comics, Harley Quinn, Wonder Woman
After using Sketchboard Pro with my iPad I can't go back to drawing without it!

Ruel Brown, Production Design, Damsel, The Bachelor
It's something I never knew I needed, but I'll never go without. The comfort and ergonomics it provides creates the best drawing experience.

Joel Create, Artist, Procreate Content Creator